We don't just sell shaved ice. Fundraising is a huge part of our business model. We're all about giving back to our communities. Every year, our franchisees give back millions to organizations all across the country.
When this company was founded, we knew that we wanted to be a part of the communities that we served. We didn't want to just be a business that takes without giving back. So how do we do that? We fundraise. It is part of our business model and it is weaved into the very fabric of who we are as a brand.
A great part of the Kona business is that we're mobile. This means we're all over the community. We're in schools, at soccer tournaments, football games, and ballfields. When fundraising for a team, you can physically see the jerseys you've helped purchase. There is not much that is more powerful.
We fundraise for schools, community organizations, and youth sports, but really who you fundraise for is up to you! It's your business. Partner with a local charity; adopt a classroom; give to your cities and towns. Why? Because you can. With a food cost and overhead that are so low, you can afford to give back. That is our business model. That is who we are. That is how we choose to make a difference.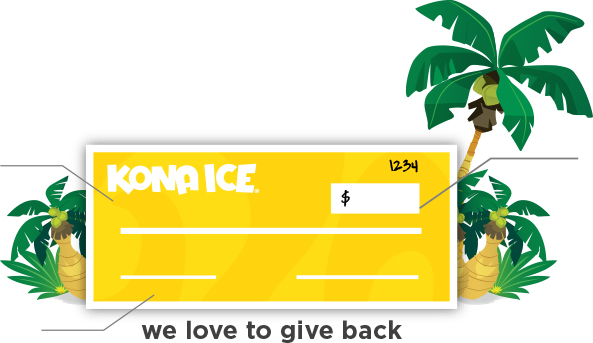 1
School Fundraising: a huge part of our giveback in the community is to schools – we are the perfect fundraising tool.
2
Youth Sports: whether it be uniforms or equipment, we can be a huge help to many youth sports teams.
3
Our National Giveback: as of the end of 2016, we've reached over $40 million in giveback – now that's something to be a part of!
FLAVOR OUR WORLD: Jackson, MS
"It was a huge success. This couple was in tears. They told us, 'We can't raise this kind of money on our own. You guys can do something we're not able to do.'" – Aaron & Linnea Weikleenget | Jackson, MS
For more of our Flavor Our World videos, visit our playlist.
Ever raised $2,000 in an hour? That is the power of Kona! Five franchisees got together and helped raise money for the Leukemia & Lymphoma Society alongside Mason Middle School.
For more videos on ways we give back, check out this playlist.
#CelebrateLife Instagram Contest
Valerie Steen was our first winner in our #CelebrateLife Instagram Contest. She wanted to celebrate life by paying it forward to the M.O.B. Club at the school she teaches at. We love helping our fans pay it forward.
For more of our Instagram winners, visit this playlist.
#SEEtheCHANGE Instagram Contest
Our #SEEtheCHANGE contest is our newest Instagram contest. Bella Arrington, a 5th grader in Auburn, Alabama, wanted to see the change with her great grandfather, Carlton. Watch the video to see how she made a difference in her community.
For more of our #SEEtheCHANGE winners, check out this
playlist
.