WEBINARS
Tony has taken it upon himself to document Kona's growth throughout the years and give us a sort of "State of the Union" address. Each of these webinars are a snapshot of where Kona Ice was at any given time in the last eight years.
THE KEV
Kona Entertainment Vehicle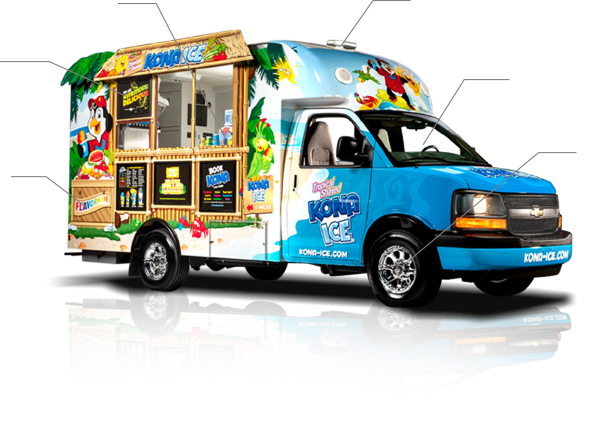 1
The Fin: this helps our truck stand out and give us a different look – it's not just a box truck!
2
Flavorwave: this is our patented Flavorwave, it's what truly sets us apart! Put as much of as many flavors on as you want!
3
Menus: our menus are built into the wrap of the truck, but we also have specific areas where you can swap out your signage.
4
Strobe Light: the strobe light on the top of your truck is a safety feature alerting other people that you're in the area.
5
Cab: our cab is outfitted with some of the best new equipment, including the screen for your back up camera.
6
Wheels: the state-of-the-art wheels are sure to attract attention – just be sure to keep them shiny!
$114,225-$139,025
$3,000/year royalty
Your #1 sales tool!
KEV 2.0
Kona Entertainment Vehicle 2.0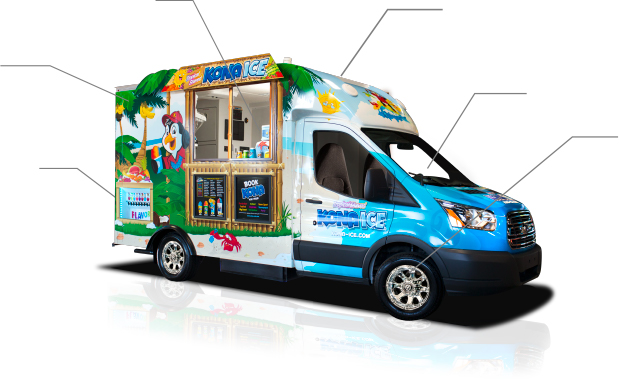 1
Serving Window: The KEV 2.0 serving window is just a little smaller than the regular KEV, but the cross window opens allowing for a breeze.
2
New Wrap: This wrap has even more fruit on it!
3
Flavorwave: Our patented Flavorwave is still very much a part of the Kona experience!
5
Front: With a smaller vehicle, comes more visibility in the windshield and a shorter front end.
6
Wheels: Smaller wheels for a smaller vehicle, but still the same great look!
$2,000/royalty

No assigned territory with purchase

NSF approved
1
Shaver: The same shaver that sits in the KEV, sits in the Kiosk.
2
Flavorwave System: A slightly modified version of our Flavorwave sits inside the Kona Kiosk.
3
Flavorwave: This Flavorwave houses ten flavors, just like the KEV, but it runs a little smaller in size.
4
Adjustable Wheels: When the kiosk is in motion, the front two wheels retract up in to the base.
5
Adjustable Roof: With the flip of a switch, the top extends up to 12 feet.
6
Sink: The Kona Kiosk comes equipped with two sinks.
7
Hood: This compartment is built to store items for a long day of events.
Removable hitch

NSF approved

Hot & cold running water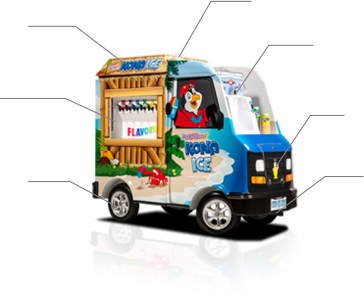 1
Size: The Kona Mini is designed to fit through any regular doorway.
2
Flavorwave: The Flavorwave is a little smaller, only holding six flavors, but it does have spigots on both sides to help with serve speed.
3
Wheels: It comes equipped with chrome golf cart rims – these wheels act like wagon wheels and are easy to maneuver.
4
Wheels: It comes equipped with chrome golf cart rims – these wheels act like wagon wheels and are easy to maneuver.
5
Operating Area: The operating area contains the shaver and four cup holders.
Weight: 500 pounds

Height: 60 inches

Length: 68 inches
THE KET
Kona Entertainment Trailer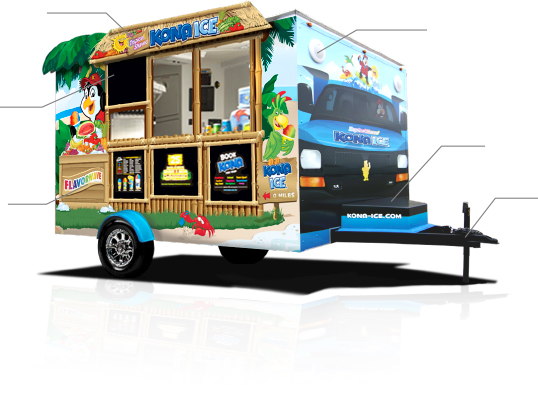 1
Awning: These awnings complete the top of the tiki hut that's on the side of the trailer.
2
Signage: We have four places for signage on your trailer. Simply slide in a menu and close the latch.
3
Flavorwave: On the trailer, you have the exact same Flavorwave that is present on the KEV.
4
Bose Speakers: It comes equipped with four Bose speakers, just like the KEV.
5
Battery Box: Here is where your batteries are stored – you'll want to check these at least once a month.
6
Hitch: This is what separates it from the KEV – it's missing the front part and two of it's wheels. This hitch makes it easy to tow.
Weight: 3,400 pounds

Height: 12 feet

NSF approved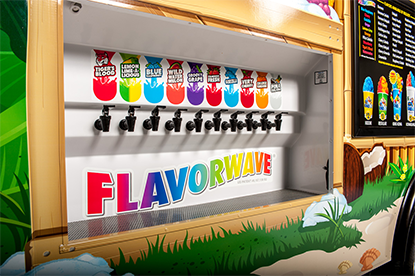 1
Ten Spigots: you can control how quickly the flavor comes out.
2
Top Ten Flavors: swap out the flavors on your Flavorwave easily by using our magnetic flavor labels.
3
Patented: our Flavorwave has been patented since 2008.
Our Flavorwave is available on all of our equipment
A huge part of the Kona experience

We have over 50 flavors available for your Flavorwave