Shaved ice – it's what we sell. But it's not just any shaved ice. Our product is vitamin-fortified, Smart Snack approved, and sweetened with pure cane sugar and all-natural stevia leaf extract. It's definitely not your run-of-the-mill snow cone.
This whole journey started with an ice cream truck. So you might be asking yourself, why don't we sell ice cream? Why shaved ice? One word: innovation. Our innovation doesn't stop at the truck. We continue to innovate in our product.
We could have just been a "nicer, cleaner" ice cream truck, but we wanted to take that experience up a notch. Shaved ice was the answer. How? It really allows for the ultimate self-serve experience. We hand a cup of ice out the window and then it's up to the customer to create their own. Want to try all ten? Give it a go. It's all about their experience.
We didn't stop there. We've continued to create several varieties of our product – from the simple syrup to the flavors, we always have something new coming down the pipeline. Kreations Flavoring is a company we started so we could start producing our own proprietary flavors. It's also allowed us to have complete control over what ingredients go into our products. So now, our shaved ice is actually better for you!
Over the years, we've created six different flavor bases, each with their own unique benefits. And we currently have over 40 proprietary flavors with at least 20 more in production. Our commitment to serving a delicious product is just as strong as our commitment to serve something healthier. We believe it can be both nutritious and delicious!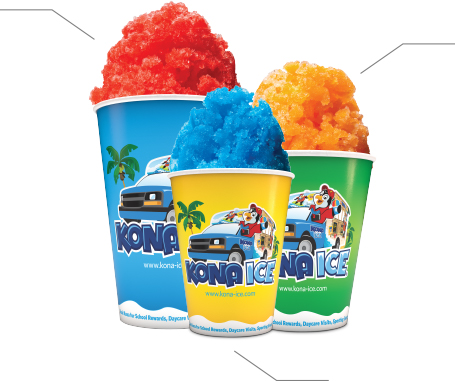 1
Ice: our ice is finely shaved, it's not the granular ice of a typical sno cone.
2
Kona Flavors: created by our sister company, Kreations Flavoring, all of our flavors are proprietary to the Kona brand.
3
Branded Cups: our branded cups are colorful, bold and bright – they draw the eye, even after the Kona has been consumed!
We strive to make our product healthier without compromising the taste. Our Vita-Blend base is infused with vitamins C & D and is sweetened with pure cane sugar and all natural stevia leaf extract. Fruit First has fruit as the first ingredient and is also sweetened with pure cane sugar and all natural stevia. They're both good and good for you!
Another great reason to consider the shaved ice business: food cost. The ingredients break down to flavoring and ice. That's it! Industry standard for food cost generally comes in between 28-35%, but our food cost lands around 6%. It doesn't get much lower than that.
Our patented Flavorwave is a huge part of our product because it's the part where our customers can customize their own Kona Ice. It allows them to put as much of as many flavors on as they could possibly want! That's what we call living the shaved ice dream.
Our flavor company, Kreations Flavoring, allows us to create proprietary and branded flavors for our Kona Ice trucks. Devising our own flavors was a huge step in distinguishing our product from the typical snow cone. We don't have to rely on any of the standard tastes – no banana for us, we have Monkey Business!