Meet Our Franchise Rock Stars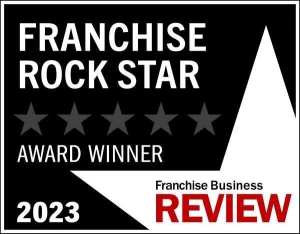 We are thrilled to announce that Kona Ice franchise owners, Walter & Rita Evans, have been awarded "Franchise Rock Star" by Franchise Business Review. They were selected as the top candidate in the Veteran-Owned category. After a combined 52 years in the Navy, Walter and Rita are slinging ice!
Learn more about the Franchise Rock Star Awards here.
"FBR's Franchise Rock Star Awards honor franchise owners who set exceptional examples of success within the franchise business model.
To achieve FBR Rock Star status, brands must be on our Top 200 Franchises awards list for their nominees to be considered. This year, Franchise Business Review received over 250 nominations from franchisors in eight different categories–including Top Performers, Multi-Unit Owners, Veteran-Owned, Women-Owned, Family-Owned, Freshmen, Millennials, and Giving Back. We narrowed the search to award the franchisees whom we believe define what it really means to be an FBR Rock Star."